Casestudy: Blatchford Prosthetic Limbs
Founded in 1890, Chas. A, Blatchford & Sons Ltd has built a global reputation over the past 125 years, as a developer, innovator and manufacturer of Endolite lower limb prosthetics. After responding to the mobility needs of young, active, returning World War II amputees, Blatchford created a prosthetic knee that allowed for stabilised weight bearing and flexion when walking. Known as the Blatchford Stabilised Knee, it became popular worldwide.
Blatchford has continued to develop increasingly sophisticated and successful prosthetics and has won The Queen's Award, Design Council Award and has set industry standards. Here at Precision Dipping's Manufacturing we are extremely proud to help with Blatchford's mission – of enhancing the quality of life for those with limited mobility. We supply latex cones, a component that is fundamental to the patient casting process, to enable proper fitting of the lower limbs.
The Process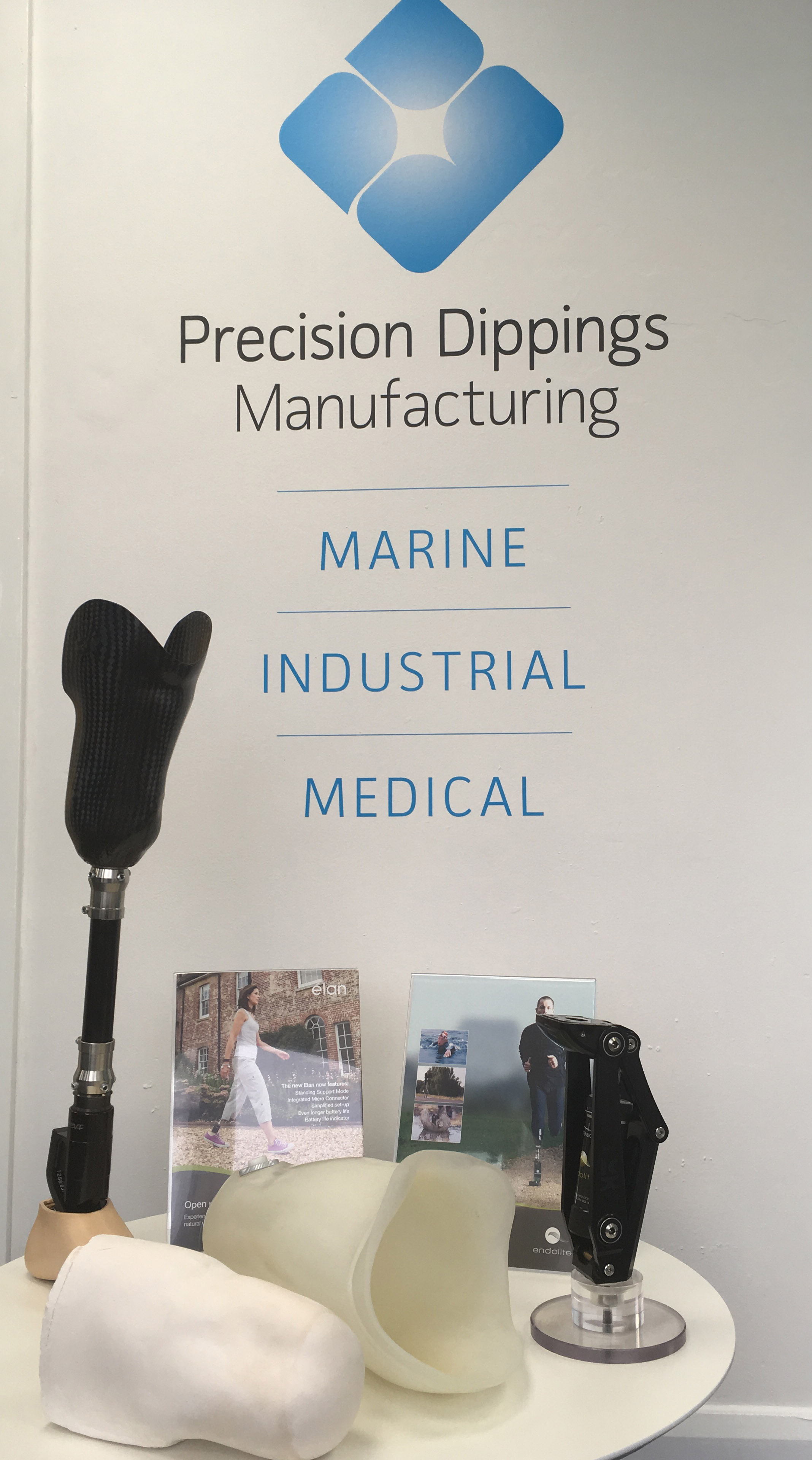 – Patients' stumps are cast using plaster slabs, which are then filled and left to set – creating a positive copy of the stump.
– It is then that the latex cones supplied by PDM are stretched over the mould. The cones create a seal which ensures any moisture from the plaster cast does not affect the hot plastic – which is then drape-formed over the mould to make a 'check socket'.
– The socket is then used to ensure the stump fits correctly. If changes need to be made, the cast is amended and the socket process repeated until the perfect fit is achieved. The final sockets are then made from carbon fibre or thermo plastic.
We've been working with Blatchford for more than 20 years, and thoroughly enjoy helping them support and enable those in need of prosthetics.
If you're looking for a manufacturer for a medical component, we have a wealth of knowledge, experience and expertise and supply a global client base from our UK manufacturing facility. Find out more here.
**Blatchford is a world-leading rehabilitation provider in prosthetics, orthotics, special seating and wheelchairs.
Established in 1890, its corporate headquarters are located in the UK, with subsidiaries in the United States, France, Germany and Norway, in addition to a world-wide network of distributors. Replication of natural motion is at the heart of Blatchford's design philosophy: its award-winning products reflect cutting-edge technology and are designed to help individuals achieve the best possible mobility, function, comfort and long-term outcomes following amputation or other pathology.  Blatchford clinicians are committed to helping change lives through the provision of specialist treatment and rehabilitation services in the UK, Norway, Russia, India and the Middle East.
Previous news story
|
Next news story