Time for a royal celebration!
---
This month we have royally good reason to celebrate:  Precision Dippings Manufacturing has won a Queen's Award!
The company has been recognised for outstanding results in innovation and won a 2016 Queen's Award for Enterprise – the UK's highest accolade for business success.
The award recognises our success in the field of innovation, following the development of Bloccs – a range of reusable waterproof arm and leg protectors for people with plaster casts and dressings.
When fitted with a plaster cast, patients are advised to keep their casts away from water to prevent them from becoming soggy and falling apart, or worse, causing an infection.
Bloccs keep injuries bone dry by slipping over an injured arm or leg like a glove or stocking. Their rubber seals combine the technology Precision Dippings originally used to put the stretch into the iconic Stretch Armstrong toy in the 1970s, with the watertight wrist, ankle and neck seals that today, we use to supply the world's top drysuit manufacturers.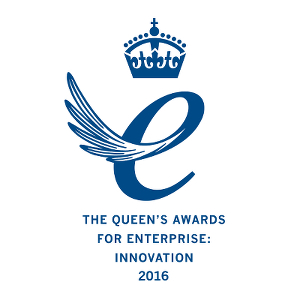 Our co-director Kate Richards explains more:
"Bloccs are popular with injured children who want to swim on their summer holidays, side-lined athletes who need a speedier rehabilitation through aquatic non-weight bearing exercise, and anyone who wants to bathe or shower independently after surgery or in spite of having a dressed wound.
"This is the first consumer product we've taken to market since starting in 1964, so we're incredibly proud.
"The key to the success of Bloccs has been its 100 per cent watertight seal technology, our personalised customer service and striking a deal with the retail giant, Boots."
Precision Dippings reports that its sales and export figures for Bloccs have increased year on year since the protectors were launched in 2013.
Kate added that the product's growth had exceeded all expectations and the Queen's Award could provide a springboard for further success.
"We see potential for growth in Australia and the United States," she said.
"This win has laid the foundation for that.
"We won't stop until we've condemned the plaster cast and dressing wrapped in carrier bags to the history books."
---
The Precision Dippings team will receive their award from the Queen at a Buckingham Palace reception in July.
The full range of Bloccs protectors are on sale at boots.com and bloccs.com.
Press release announcing Precision Dippings' 2016 Queen's Award win.
Previous news story
|
Next news story